from Paul Doube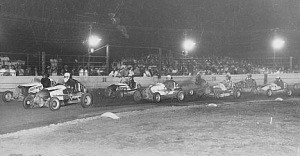 Thanks to the good graces of John Whitburn in arranging the visit, the 14 members who attended were treated to a fantastic afternoon at Ian Gear's home on Sunday 27 July.
It is a wonderful and varied collection of road cars, racing cars both circuit and speedway, as well as an enormous collections of memorabilia and models spanning the decades.
Of particular interest was the Alec Rowe Supercharged Peugeot engine speedcar from the 60's, that was driven so capably by the late Bill Wigzell. It has been beautifully restored, and is a tribute both the Alec for his amazing engineering and ingenuity, and to Billy Wigzell who got the very best out of the car as a driver, consistently beating the favoured and vastly more costly Offenhauser engine cars. It was particularly poignant though, as Bill donated the trophies and winner's sashes in his collection, to stay with the car.
This was one of four speedcars in the collection, which also included a TQ and a Jawa 500 speedway bike. To put the speedway riders in to perspective in terms of bravery, the specifications for the bike are as follows – 493cc single, direct drive (clutch but no gearbox), 55 bhp on methanol, and no brakes!!!
While the collection of road and circuit cars also attracted much attention, Ian's modeling skills made a few feel quite inadequate, as evidenced by his building a very accurate replica of his UX1 Torana historic racer car.
Add in Ian's great ability as a story teller, and all were treated to much laughing across the afternoon, while marveling at both the size of the collection and the variety of the memorabilia in his sheds.
Perhaps the funniest part of all, was Ian pointing to his framed report card from primary school, which suggested he would never amount to much. I hope that teacher who wrote that report was made aware of the success Ian has and continues to enjoy.
As noted, a fantastic day and a very big thank you must go to both Ian for his hospitality in opening his home and garages to us, and to John for arranging the visit. Thanks must also go to Chris for arranging the drinks and nibbles.
I on the other hand, contributed very little, other than to bring some red wine for those attending to share and a couple of bottles as a gift of thanks to Ian. I then made a glutton of myself by hogging as much of Ian's time as possible to explain almost every single item in the collection.
A great day and much enjoyed by all who attended.